Merchant Processing Solutions
Grow Your Business
Keeping up with day-to-day operations and providing exceptional customer experiences is crucial to your long term success. The easier it is to do this, the more time you have to focus on growing your business.
We've teamed up with Heartland® to offer you innovative payment and point of sale solutions to help you run your business better. Heartland can help you streamline operations, increase productivity and make payments easy so customers can't resist burying from you.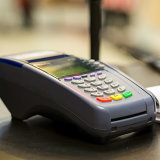 Summary
Accept All the Ways Your Customers Prefer to Pay
Take payments anywhere: Online, restaurant, retail, and on the go
Accept any major method of payment: Cash, check, credit, debit and gift cards, chip card and digital wallet
Process payments over any compatible device: Mobile phone, tablet, laptop, terminal and point of sale system
Point of Sale: Where "Smart" Runs in the Family
Register
The simpler, smarter point of sale. Back office management to help run your business better.
Better checkout experience
Reduce employee overtime
Eliminate inventory shortages
Simplify accounting
Terminal+
Freedom to run your business. Everything you need in an all-in-one terminal.
Better checkout experience
Intuitive sales tax
Eliminate inventory shortages
Fraud protection
Mobile Pay
Take payments anywhere. Run your business from your phone.
Go where customers are
Never miss a sale
Capture customer trends
Securing Your Business and Customers' Card Data
Heartland Secure™ combines three powerful technologies to provide the industry's highest level of security for your business, backed up by a Breach Warranty.
PCI compliant to minimize the risk of credit card fraud to provide you and your customers peace of mind.
Services at a Glance
Fair and transparent processing: Interchange Plus pricing minimizes your payment acceptance costs to put more money in your pocket.
Protecting your rights: The only payment provider to provide a Merchant Bill of Rights promoting fair credit, debit and prepaid processing practices.
24/7 customer support: Award winning customer service agents based in the U.S. answer your call in less than 30 seconds on average.
All accounts subject to credit approval; some restrictions and exclusions apply to all offerings. All trademarks contained herein are the sole and exclusive property of their respective owners. Any such use of those marks without the express written permission of their owner is prohibited. © 2020 Heartland Payment Systems, LLC, a Global Payments company (NYSE: GPN). All rights reserved. Heartland Payment Systems, LLC is a registered ISO of Wells Fargo Bank, N.A., Concord, CA, and The Bancorp Bank, Philadelphia, PA.