Merchant Processing Solutions
Accept credit and debit cards with TSYS®.
Does your business accept credit and debit card payments? If not, why? You could be missing out on potentially higher sales and revenue. If you do, are you paying too much for rates and fees? You could be saving money every month. We have teamed up with TSYS, one of the nation's leading providers of payment processing services, to offer you innovative, money-saving payment processing solutions that will help your business grow and succeed.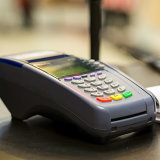 Summary
Customized Payment Processing Solutions for Your Business
Whatever your business model — traditional POS retail, mobile, mail/telephone order, e-commerce or any combination — we can customize a payment processing program that includes everything you need.*
Our services include:
Personalized sales consultant
Acceptance of all major credit and debit cards, plus ACH processing and check verification
Improve cash flow with next-day funding
Chipcard compliant terminals
Numerous payment processing solutions
Ability to integrate with compliant POS systems
Quick and easy electronic application process
24/7/365 U.S.-based personalized service and merchant support
Real-time online reporting
American Express® Card acceptance at the same rate as other payment cards*
Innovative Payment Processing
Smart solutions to help you save and increase efficiency:
Lower Your Rates, Grow Your Business
Compare and save – TSYS will meet or beat your current merchant services plan – or we'll give you $500!**
Process Today, Get Funded Tomorrow!
Get true next-day funding from TSYS.
TransFreedom®: Accept Credit Cards, Simply and Affordably
One package, one price. Save time, save money.
Transaction Express® (TXP)***: A Complete Payment Processing Center. Online. Anytime.
The flexibility and reliability you need to grow your business – only from TSYS.
ProcessNow® Mobile: The App that Fits your Business
Flexible, powerful, portable
Sell in the store or on the go
Safeguard Your Business
Protect your investment with TSYS data breach security program.
You've worked tirelessly to build your business. Why not enjoy state-of-the-art payment processing with the financial institution you trust? Ask your business development representative for more information about our payment-processing program with TSYS.
*Merchants that process less than $1,000,000 in American Express annual charge volume may be program-eligible (certain restrictions and exclusions may apply).
**Provided that merchant's current pricing is not below standard card organization fees. Comparison applies to processing fee only, not to include monthly equipment or software fees; additional fees may apply. Must provide monthly processing statements for comparison. Offer valid for new TSYS customers only. Merchant account subject to credit approval; certain restrictions and exclusions apply. "Meet or beat" offer expires December 31, 2017.
***Transaction Express account required to use ProcessNow; regular monthly fee applies. All merchants subject to credit approval; some restrictions and exclusions apply. All offerings are subject to change or discontinuance at any time. Trademarks are the property of their respective owners and are not necessarily affiliated with TSYS.