Business Lines of Credit
Have cash on hand for business needs that arise, when they arise.
Any one thing, or number of things can pop up in a business day. A Business Line of Credit helps you to address them all in real time. Once established, simply withdraw funds at any time, without the need for applying for separate installments.
For more information about our Business Lines of Credit, please contact:
Diego Mangawan, Executive Vice President, Commercial Lending: (708) 867-2530 or [email protected]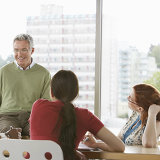 Summary
Competitive fixed or variable rates for a wide range of recurring or seasonal business needs:

Working capital
Equipment
Inventory
Seasonal fluctuations
Trade discounts
Facility improvements
And more

Secured by business assets or real estate
Revolving credit line; as principal is repaid, more becomes available for use
Apply initially, then reuse as needed when expenses arise
Easily access funds in person or over the phone with a loan officer
Only pay interest on the part that's used
Terms range from 90 days to one year
Prompt, local decision-making and processing
Friendly, helpful service from our experienced lending team