Mobile Check Deposit
Sign, snap, send – easily deposit checks in three simple steps.
Rather than make a trip to a branch for every check deposit, Express Deposit lets you do it yourself from your mobile device. Simply take a photo of the front and back of your check, then send it on its way to us for processing. This convenient service not only saves time, it also expedites your money availability in the process.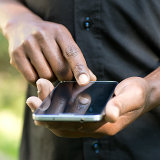 Summary
Available to personal and business customers
For consumers with a mobile device with a back-facing camera
Easily deposit checks at any time from your mobile device
To access:

Download the Parkway Bank mobile app
Select Check Deposit from the Main Menu
Follow the prompts to take a picture of the front and back of the check
Enter the amount of the check and the account into which you would like it deposited
Send!
Limits and restrictions may apply. See a personal banker for details.