Business Certificates of Deposit (CDs)
Improve your earnings without risking any of your company's cash assets.
Simply pick the CD term and your funds earn a guaranteed fixed rate – always a good thing for your bottom line. We offer a range of term lengths to fit your short- and mid-range goals. By laddering maturity dates, you can add liquidity to your CD investments. Talk to your business banker today.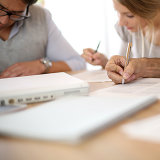 Summary
Fixed rates, higher than regular savings
Receive an even higher rate by selecting a longer term
Locked-in rates provide more guarantee than other risky investments
Terms ranging from 91 days to 5 years available
No setup or maintenance fees
Early withdrawals subject to penalty
Automatically renews at maturity
$1,000 minimum deposit to open
FDIC insured up to $250,000
Jumbo Certificates of Deposit (CDs)
Jumbo CDs are available for customers with large deposit amounts. Enjoy full FDIC insurance and the guarantee of a locked-in rate.
Fixed rates, higher than regular savings
Receive an even higher rate by selecting a longer term
Locked-in rates provide more guarantee than other risky investments
Terms ranging from 14 days to 365 days available
No setup or maintenance fees
Early withdrawals subject to penalty
Does not automatically renew at maturity
$100,000 minimum deposit to open
FDIC insured up to $250,000