MasterMoney Debit Card
Easily make purchases across the street, around the globe, or online.
Imagine getting through life without ever having to dig for change – or worse, write a check. Our MasterMoney debit card is safer than carrying cash and more readily accepted than checks. The very same card is used to make ATM withdrawals, including free ATMs at over 55,000 Allpoint locations worldwide. One tiny piece of plastic, a whole lot of versatility.
Current cardholders – traveling soon?
Ensure your debit card works wherever your travels take you. Simply call us at 888-498-9800 within 48 hours of your trip and we will make sure your card transactions go smoothly.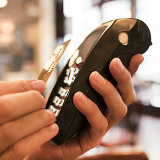 Summary
Fast, free, and easy
Safer than carrying cash
More convenient and safer than checks
Eliminate cost of purchasing checks
Make purchases virtually anywhere, worldwide
24/7 access to funds via ATMs
Easily replaced if lost or stolen
MasterCard SecureCode
Add an extra layer of protection when shopping online. SecureCode enhances your existing MasterCard account by letting you set up a private code known only to you and your card issuer, to be used when you shop at participating online retailers. Your unique code is confirmed quickly by your card issuer and retailers are unable to view it. For information about SecureCode and other online shopping safety tips, visit the MasterCard website.