Payables Solutions
Optimize your payment strategies
Keep your business running smoothly with smart management of your disbursements. We can assist you with developing payment strategies that help you maintain control of your cash flow while ensuring that payments are made accurately, safely and efficiently.

ACH Payment Origination
Domestic and international wires
FTP file origination
Controlled disbursement accounts
Account reconciliation
Business Debit Card – Easily make purchases and track expenses with our free Business MasterMoney card.
Business Credit Card – Choose from convenient options with benefits such as cash back or reward points, low introductiory rates, expense management tools, no annual fee, and employee cards with individual limits.
Fraud Prevention tools – Avoid potential security issues related to Payables.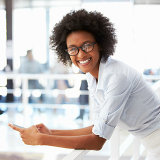 Summary
Maintain strong control of your cash flow
Manage your disbursements safely and efficiently
Effectively manage your payables to meet your daily and long-term strategies