Commercial Real Estate Loans
No matter your commercial property need, Parkway Bank offers a real estate solution.
Whether you're looking for a building of your own, land for an investment property, or building from the ground up, we work very hard to secure financing for all fellow local businesses. Our lenders are both experienced in the local real estate market and in getting to know each business's individual needs.
For more information about our Commercial Real Estate Loans, please contact:
Diego Mangawan, Executive Vice President, Commercial Lending: (708) 867-2530 or [email protected]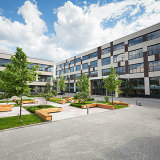 Summary
Competitive rates for the purchase, refinance, or construction of commercial properties
All Commercial Real Estate Loans are secured by the property or land being financed
Available for both owner-occupied (office spaces, commercial buildings, etc.) and income-producing investment properties (apartment buildings, retail shopping centers, etc.)
Budget-friendly repayment terms, tailored to meet your business's needs:

Owner-Occupied & Investment Mortgages: 4-year balloon with a 15 to 20-year amortization period
Construction Loans: 1 to 2-year terms
Land Acquisition/Development Loans: 1 to 2-year terms

Refinance your current property to potentially lower your rate
Free prequalification available for extra confidence upon negotiations
Lending professionals with a working knowledge of the local real estate market and agricultural standards
Prompt, local decision-making and processing
Friendly, helpful service from our experienced lending team
Construction, Land & Development Loans
Construction Loans
Available to developers for various real estate projects including (but not limited to):
Single-family residential
Multi-family residential
Retail strip centers
Industrial facilities and office buildings
Land Acquisition/Development Loans
Available for the purchase and completion of land improvements for both residential and commercial properties.
Benefits
Competitively low rates for commercial construction, land acquisition, and development
Provides more convenience, especially toward the end of the construction or development phase and the beginning of permanent payments
Pay off interest quicker; payments are interest-only during construction or development phase
Payments are made on the amount drawn on your loan sufficient to pay your builder
Construction draws applied in stages based on work completed