Minor Savings
Turn young savers into future established savers by getting them started early.
Our Minor Passbook Savings account sets youth 18 years and younger on a path toward long-term financial know how. Start earning competitive interest on balances of any amount right out of the gates. Plus, convenient account management and tracking tools show first-hand the effects of good saving habits.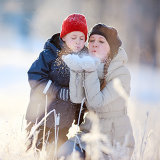 Summary
Available to young savers under the age of 18
Helps children and young adults establish the importance of saving from an early age
Competitive interest paid on the entire balance*

Interest compounded daily, credited quarterly**

No monthly service fee
No minimum balance requirements
Receive a deposit record, a piggy bank, and a passbook upon opening ***
Up to 6 transactions per month to another account or to a third party

$2 fee per transaction in excess (exceeding 18 per calendar quarter)
Transactions limited to preauthorized automatic, telephone, or computer transfers
Excludes the transfers by check, draft, debit card, or similar order

Free mobile banking
Free mobile check deposit
$10 minimum deposit to open
*Interest rate and annual percentage yield (APY) subject to change at any time. If you close your account before interest is credited, you will not receive the accrued interest.
**We use the daily balance method to calculate the interest on your account. This method applies a daily periodic rate to the principal in the account each day. Interest begins to accrue no later than the business day we receive credit for the deposit of noncash items (for example, checks).
***A $15 fee will be charged to replace a lost passbook.