Business Preferred Money Market
Maximize your business's earning potential and flexibility.
Our Business Preferred Money Market account provides tiered interest, so higher balances earn higher rates. No need to lock up cash assets in CDs to enjoy high rates. In fact, access is enhanced with direct check writing. Have the best of both worlds – interest and liquidity – with this versatile account.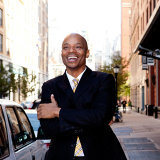 Summary
Competitive, tiered rates starting on balances of $5,000 or more*

Higher balances earn higher rates
Interest compounded and credited monthly**

Avoid $15 monthly service fee by maintaining a $5,000 minimum average daily balance***
Enjoy flexibility with enhanced access to funds including direct check writing:

Up to 6 transactions per month to another account or to a third party by pre-authorized automatic, telephone, or computer transfer, or by check, draft, or similar order
$15 fee per transaction in excess (exceeding 6 per calendar month)

Free Basic package online banking with eStatements****
Free mobile banking
Free mobile check deposit
$5,000 minimum deposit to open
*Interest rate and annual percentage yield (APY) subject to change at any time. If you close your account before interest is credited, you will not receive the accrued interest.
**We use the daily balance method to calculate the interest on your account. This method applies a daily periodic rate to the principal in the account each day. Interest begins to accrue no later than the business day we receive credit for the deposit of noncash items (for example, checks).
***The average daily balance is calculated by adding the principal in the account for each day of the period and dividing that figure by the number of days in the period.
****Up to 5 accounts allowed, thereafter $3.00 for each account.