Business Customer Stories

Inland Real Estate
Inland Real Estate Group, LLC, based in Oak Brook, IL, is one of the largest commercial property companies in the U.S., and a prominent commercial real estate customer of Parkway Bank for over 45 years.
From Rags to Riches
Joe Cosenza, Inland's Vice Chairman and one of its original four co-founders, along with Dan Goodwin (Chairman), Bob Baum (EVP, General Counsel and Vice Chairman), and Bob Parks (Director), recall their "rags to riches" story.
Inland started as a small business in 1968, led by four young college friends turned Chicago school teachers. Looking to supplement their modest teacher salaries, the team decided to pursue real estate on the side and attended real estate school. They began building houses one at a time, with money from friends and relatives.
In 1972, they took their small real estate startup full-time and were introduced to Parkway Bank by a business partner.
Building the Foundation
The aspiring entrepreneurs, in need of funds to expand their business, brought their loan request to Parkway Bank's then-Chairman, Joe Zizzo. After careful review, Zizzo brought the young businessmen to the adjacent conference room to review their request before the weekly loan committee meeting. Cosenza and Goodwin recall being extremely nervous at the time, but upon reviewing the deal, the loan was approved.
That first loan was instrumental to both Inland and Parkway's success, laying the foundation for an incomparable banking partnership spanning 45 years.
"When we first approached Parkway Bank as a small business, we had nothing, but they treated us like we were their best customers. We can bank with anyone, but we choose to bank with Parkway Bank because of how well we're treated."
- Joe Cosenza, Vice Chairman, Inland Real Estate Group & President of Inland Real Estate Acquisitions, LLC - Oak Brook, IL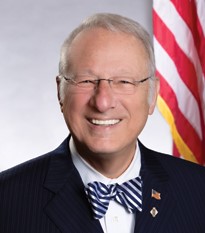 As Vice Chairman of The Inland Real Estate Group, LLC, Joe Cosenza has personally overseen, and/or negotiated, the purchase for Inland of $46 billion of income-producing real estate, in over 3,600 individual deals, of which over 700 are in the greater Chicagoland area. Joe also holds the prestigious honor of being inducted into the Chicago Association of REALTORS® (CAR) Hall of Fame.
Built on Excellence
Mr. Cosenza shares some of the reasons for Inland's longstanding banking relationship with Parkway Bank, and the bank's signature loan process that has propelled Parkway to prominence as one of the largest commercial real estate lenders in both Chicago and Illinois.
For one, Parkway Bank's Chairman & CEO, Rocco Suspenzi, is personally involved in every loan review and approval. Cosenza says that Suspenzi knows real estate better than anyone, and has worked with Inland for 40 years.
The loan review process is streamlined and efficient, delivering quick decisions with few layers.
The Loan Review Committee—from Parkway's Chairman to Loan Analysts—meets in person each week at Parkway's Chicago-area headquarters to ensure that business loans are given the priority they deserve.
In fact, all businesses—small or large—are assigned a Commercial Lending Officer to personally manage their lending relationship.
"Parkway knows the customer, they know the customer's purchase, and they know what they're doing," says Cosenza. "No banks are run as well as Parkway."
From Small Business to Real Estate Icon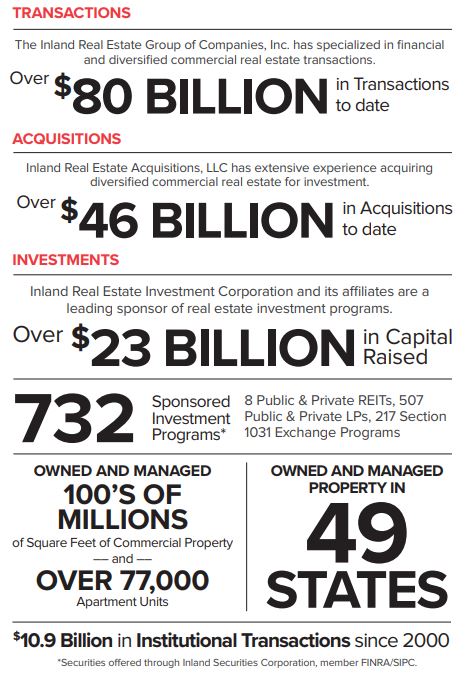 From their modest growth as a small business in Chicago, Inland has become one of the largest commercial real estate companies in the U.S. and is celebrating their 50th anniversary. To date, Inland has conducted over $80B in real estate transactions, $46B in acquisitions, and raised $23B in capital. They've owned and managed more than 77,000 apartment units, own property in 49 states, and employ over 1,000 people.
Throughout their success, three things have remained the same. Inland's leadership by the four principals and founding members, a commitment to excellence, and their long-term relationship with Parkway Bank.
The Future is Bright
Today, Inland and Parkway have closed on hundreds of commercial real estate loans, including Term Loans, Lines of Credit, Owner-Occupied & Investment Mortgages, Construction Loans, and Land Acquisition/Development Loans.
After 45 years, the long-term business relationship between Parkway Bank and Inland Real Estate continues to grow and flourish, with a loan relationship that cuts through the typical banking bureaucracy. Inland continues to acquire, lease, build and invest in commercial real estate, both as a developer and on the investment side through REIT's, 507 Public & Private LP's, and 217 Section 1031 Exchange programs.
Recent Inland projects funded by Parkway Bank include new 20-year triple net leases on four Jewel grocery stores in the Chicago area, with investments in grocery-anchored shopping centers across the U.S., medical office buildings, self-storage and apartment buildings, supported by Parkway's hands-on leadership.
Our history with Inland demonstrates our commitment to uncovering opportunities and fostering growth for promising local companies, which has enabled us to become a leader in Chicago's commercial banking industry.
- Rocco Suspenzi, Chairman & CEO, Parkway Bank