Online Banking & Bill Pay
Manage your banking on your time – bank trip optional.
With our full-service, secure online banking, you can easily take care of many banking tasks anytime, from anywhere with internet access. Simply go online to check your balance, transfer money, pay bills, view your latest eStatement, and more. You can even set up text or email alerts to receive important account notifications instantly.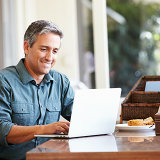 Summary
Online Banking
Free, fast, secure service for customers with a deposit account
Manage a number of banking tasks anytime, anywhere with internet access:
Check account balances
Access eStatements
View account activity
Transfer funds between accounts
Set up text or email alerts
Make remote deposits using our mobile banking app
E-Bill pay
Make one-time, recurring, or manual payments with ease:
Schedule payments in advance
Set up payment reminders and notifications
Ensure payments are received on time
Have all payee information saved in one convenient place
Avoid paper clutter and long periods of check preparation
More secure than paper billing
Save money on postage, checks, and trips to a branch
Get Started
Enrolling in online banking is easy! To enroll in personal online banking, simply follow a few quick and easy steps to complete the process. Helpful hint: you will need your social security number and last account statement ending balance.If you can't find your ending account balance, contact client services at (888) 498-9800.
After enrolling in Online Banking, you may also want to download our free mobile banking app to facilitate online banking on your phone or tablet. Our mobile banking app includes the convenient feature of remote deposits.
eStatements
Trade the paper clutter for the convenience of viewing your account statements at any time. Plus, by losing the paper trail, you also cut down your chances of becoming a victim of fraud. Save yourself — and the environment.
Reduce clutter in your home or office
Save trees, which are crucial to the environment
Fast, free, and easy alternative to paper statements
Easier to retrieve info when needed
Eliminate a paper trail
Reduce chances of fraud and identity theft
Arrive faster than paper statements
Simplify recordkeeping
Easily access past statements
Ability to download for permanent storage or print if needed
Receive email notice when new eStatement is ready
Enrollment Instructions
To receive eStatements, you must first be enrolled in online banking. If you're already enrolled in online banking, then simply follow these instructions:
Sign into online banking and select "Statements" from the menu.
Click "change the delivery method" and select "online" from the drop-down menu for each eligible account.
Read and accept the disclosure and service agreement.
A confirmation screen will appear so that you can review your requested change. After you complete these steps and confirm the change, your first online statement will be posted on your next normal statement date.
Statements are stored online for 13 months for your convenience. If you'd like to save them for a longer period, you can print or save them directly to your computer.
Having trouble printing your statement?
Your pop-up blocker may be preventing you from seeing the printable PDF file. With your statement open, click "PDF" at the top of the page. If prompted at the top of the page, choose "allow pop-ups" and click on PDF again. Choose the pages you want to print, then click the printer icon on the left within the PDF screen.
Online Banking Alerts
Would you like to be notified about changes to your account, such as when your account balance falls below the amount you specify, or when withdrawals and deposits are posted? Receive a text or email alert and keep your account under control. View our simple set-up instructions.