Free Kasasa Cash
Rewards Checking. Earn high rates, paid in cash.
Free Kasasa Cash® rewards checking flips run-of-the-mill checking on its head. With no monthly service fee, it's also easy to earn interest far above the national average – plus refunds on ATM fees nationwide.* Sign up for an account that always works in your favor today!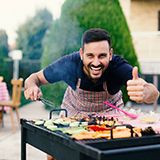 Summary
2.05% APY* on balances up to $25,000
2.05% to 0.61% APY on balances over $25,000 depending on the balance in account*
0.05% APY* if qualifications aren't met
ATM fee refunds nationwide (up to $25 monthly)* at non-Allpoint ATMs
Can link to high-interest Kasasa Saver® account
No minimum balance to earn rewards
No monthly service fee
Unlimited check writing
Free mobile banking
Free mobile check deposit
$100 minimum deposit to open
Student accounts:
High School students 14-17 years old at account opening: a parent or guardian must sign on account with student
College students under 18 years old at account opening: no special restrictions or additional signers required
Earning Rewards Is Easy
To earn your rewards, simply complete the following activities and transactions in your Kasasa Cash account each monthly qualification cycle:
Have at least 12 debit card purchases post and settle
Be enrolled and receive eStatement notice
Be enrolled and log into online banking
It's as simple as that. If you don't qualify, don't worry. Your account is still free and still earns our base interest rate. You can always get back to earning rewards the next cycle.
Switching your account to Parkway Bank is simple - click here for our easy Switch Kit.
Kasasa Cash current marketing disclaimer
*Annual Percentage Yields (APYs) accurate as of 7/21/23.
**Rates and rewards are variable and may change after account is opened. Rewards vary by account. When your Kasasa account qualifications are met during a Monthly Qualification Cycle: Kasasa Cash: Balances over $25,000 earn 0.25% interest rate on the portion of balance over $25,000, resulting in a range from 2.05% APY to 0.61% APY depending on the account's balance. Kasasa Cash Back: 2.50% cash back on up to a total of $200.00 PIN-based or signature-based debit card purchases that post and settle to the account during that cycle period. A maximum of $5.00 cash back may be earned per Monthly Qualification Cycle. Kasasa Saver: (if linked to a Kasasa Cash or Kasasa Cash Back account): Balances over $100,000 earn 0.40% APY on the portion of balance over $100,000, resulting in a range from 1.70% APY to 1.05% APY depending on the account's balance. ATM Fee Refunds: You will receive reimbursements up to $25 (up to $9.99 per single transaction) for nationwide ATM fees incurred during the Monthly Qualification Cycle in which you qualified. An ATM receipt must be presented within thirty (30) calendar days of transaction for reimbursements of individual ATM fees of $10.00 or higher. When your Kasasa account qualifications are not met, all balances in a Kasasa Cash account earn 0.05% APY, all balances in a Kasasa Saver account earn 0.05% APY, cash back payments are not made, and ATM fees are not reimbursed. Commensurate with normal spending activities, we expect the account's debit card to be used frequently throughout each month and for transaction amounts to reflect a wide dollar range. Small debit card transactions conducted on the same day at a single merchant and/or multiple transactions made during a condensed time period particularly near the end of a Monthly Qualification Cycle are not considered normal, day-to-day spending behavior. These types of transactions appear to be conducted with the sole purpose of qualifying for the account's rewards and thus will be deemed inappropriate transactions and will not count toward earning the account's rewards. Parkway Bank reserves the right to determine if the account is being maintained for a purpose other than day-to-day, primary use. Members who persist in making debit card and transactions in a calculated and limited fashion in order to meet their monthly qualifications may have their accounts converted to a different checking account or closed altogether. Rewards and ATM fee reimbursements will be credited to the appropriate Kasasa account on the last day of current statement cycle. Automatic transfer from Kasasa Cash to Kasasa Saver occurs within one day and may cause an overdraft to your Kasasa Cash account if the account's balance is less than the transferred amount when transfer occurs. When linked to the Kasasa Saver account, the interest earned within the linked Kasasa Cash account does not compound since it is automatically transferred to the Kasasa Saver account. Fees may reduce earnings. Overdraft/returned item fees may apply. Account approval, conditions, qualifications, limits, timeframes, enrollments, log-ons and other requirements apply. $100 minimum deposit is required to open the account. Limit 1 account per social security number. In order to open a Kasasa Saver account, a Kasasa Cash or Kasasa Cash Back account is required. There are no recurring monthly service charges or fees to open or close these accounts. Contact a Parkway Bank Personal Banker for additional information.
Kasasa, Kasasa Cash, Kasasa Cash Back, and Kasasa Saver are trademarks of Kasasa, Ltd. Registered in the U.S.A.