Piggybot
Teach your kids money smarts by downloading our free PiggyBot™ app.
Set up and manage all of your children's accounts from a single screen. Set goals, assign chores, and keep track of IOUs – all while reinforcing positive behaviors with positive outcomes. Plus, with a convenient mobile app, you'll never leave PiggyBot at home. Download this fun, new app to start the discussion about spending, sharing, and saving today.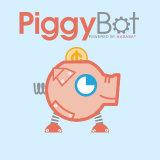 We do not obtain personal identifying information on minors on our website.
*iPhone® and iPad® are registered trademarks of Apple Inc. App StoreSM is a service mark of Apple Inc.